Library received new books. We kindly invite to read.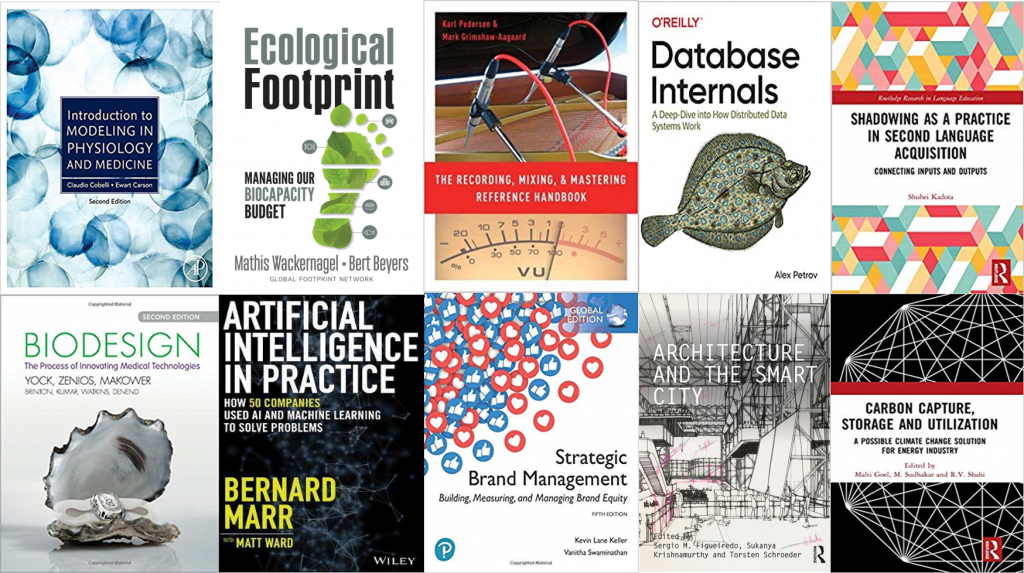 Bonaguide, G. & Jarvis, N. (2019). The VNA applications handbook. Boston [Mass.]: Artech House.
Camuffo, D. (2019). Microclimate for cultural heritage: Measurement risk assessment, conservation, restoration, and maintenance of indoor and outdoor monuments(Third ed.). Amsterdam: Elsevier.
Cobelli, C. & Carson, E. (2019). Introduction to modeling in physiology and medicine(Second ed.). London: Academic Press.
Dong, G. (2019). Exploiting the power of group differences: Using patterns to solve data analysis problems(Synthesis lectures on data mining and knowledge discovery, # 16). San Rafael [Calif.]: Morgan & Claypool.
Electrical installation design guide: Calculations for electricians and designers(4th ed.). (2019). Stevenage: Institution of Engineering and Technology.
Goel, M., Sudhakar, M., & Shahi, R. V. (2018). Carbon capture, storage and utilization: A possible climate change solution for energy industry. Boca Raton [Fla.]: CRC Press.
Kadota, S. (2019). Shadowing as a practice in second language acquisition: Connecting inputs and outputs(Routledge research in language education). London: Routledge.
Keller, K. L., & Swaminathan, V. (2020). Strategic brand management: Building, measuring and managing brand equity(Fifth edition, global ed.). Harlow: Pearson.
Lindsey, G. (2019). English after RP: Standard British pronunciation today.London: Palgrave Macmillan.
Petrov, A. (2019). Database internals: A deep dive into how distributed data systems work(First ed.). Beijing: O'Reilly.
Rimon, E. & Burdick, J. W. (2019). The mechanics of robot grasping. Cambridge: Cambridge University Press.
Sarangi, S. & Sharma, P. (2018). Artificial intelligence: Evolution, ethics and public policy. London: Routledge.
Shi, Z. (2020). Advanced artificial intelligence(Second ed., Series on intelligence science ; Vol. 4). New Jersey [N.J.]: World Scientific.
Walker, B. (2019). Cyber security: Comprehensive beginner guide to learn the basics and effective methods of cyber security. London]: [Independently Published].
Watts, A. (2019). Modern construction case studies: Emerging innovation in building techniques(Second ed.). Basel: Birkhäuser Verlag.
These and other books which are preserved in the library can be found in Library catalogue and Virtual library.
You can suggest to purchase a new book for the library. Before you do this, please make sure it is not in the library catalogue yet.
Check out all newly received books in the library here.